Pathankot Shimla Taxi
Pathankot Shimla Car Rental Services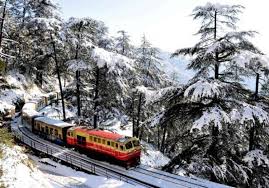 Clich Here for - Online Taxi Booking from Pathankot to Shimla.
With Karan Car Rentals you can Book Online Taxi Services From Pathankot to Shimla which was once the summer capital of India during British Raj. Shimla in Himachal Pradesh is a gorgeous hill station. Set in the midst of impressive hills and dense jungles this hill town has its own charm. Shimla is full of Pine and Deodar trees. The wood has been extensively used in building the temples and palaces of Shimla. The Shimla arts and crafts are highly in demand by the tourists. They range from excellent pieces of jewelry, embroidered shawls and garments to leather made articles and sculptures.A typical hilly terrain with a picturesque countryside, wonderful climate and viable social standards, it is quite natural that this hill station has been acquired the status of a preferred and much loved picnic spot in India.
Distance: 366 KM
Travel time by car: 8:10 Hours
Car rental service in Pathankot to Shimla is become a matter of single click with Karan Car Rentals. At Karan Car Rentals you can book taxi in Pathankotr for holiday tours to shimla. You can check the price online for Shimla taxi rental service and hire car, taxi in Pathankot to Shimla. We also provide pick-up/drop service from pathankot to shimla.

SHIMLA CAR RENTAL SERVICES FOR LOCAL TRAVEL :
This service useful for the traveler who wants to travel within city or for local sightseeing within the city limits but can not use for point to point taxi or radio taxi or call taxi. Local usage car rental service divided into two types of services : Full Day Local, Half Day Local