Pathankot, Jwala ji Temple Taxi
Karan Car Rentals Services From Pathankot to Jwala ji.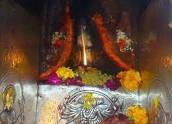 Pathankot To Jawala Ji outstation (roundtrip) car rental on this page travelers can get best deals on online cab booking from Pathankot To Jawala Ji as well as get taxi fare/cost details from Pathankot To Jawala Ji. Karan Car Rental services available for all cab types, Economical, AC, Non AC and luxury excluding shared taxi. Select for a range of options on Pathankot To Jawala Ji. Karan car rental such as Pathankot Jawala Ji sight seeing and Pathankot Jawala Ji  full day cab Booking. routes information and online booking help. Book Economy, Budget And Luxury cars.
About Jwalaji
Jwala Ji is a Hindu Goddess. Alternative spelling and names for Jwala Ji include Jawala Ji, Jwala Devi and Jwalamukhi Ji. The physical manifestation of Jwala Ji is always a set of eternal flames and the term Jwala means flame in Sanskrit  and Ji is an honorific used in the Indian subcontinent.Jwalaji/jawalaji (flame) or Jwala Mukhi (flame mouth) is probably the most ancient temple discussed here besides Vaishno Devi. It is mentioned in the Mahabharata and other scriptures. There is a natural cave where eternal flames continue to burn. Some say there are nine flames for the nine Durgas ... Several schools of Buddhism also share the symbolism of a seven-forked sacred flame.