Swift Dzire Cab Rental
Swift Dzire Cab Rental in Pathankot.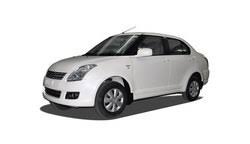 Click Here for - Online Taxi Booking in Pathankot.

We Providing Swift Dzire Cab Hire in Pathankot for Local Sightseen And Outstation Car Rental Package Tours from Pathankot Railway Station Like Agra Jaipur Tour, Rajasthan, Honey Moon Tour, Himichal Tours  Special Wildlife Tours. Which Are A/C And Can Accommodate Four People Comfortably. If You Are Four (Small Team or Family), It is More Comfortable And Relaxing. It Has Nice Seating And Spacious Interior.

Swift Dzire is cheapest sedan car for taxi rentals Needs in Pathankot Railway Station to Himachal, Jammu & Kashmir Tours.
Car Name: Swift Dzire
Air Conditioned: Yes
Driver: Uniformed, Well trained & experienced.
Seating Capacity: 4 Passengers + 1 Driver
Manufacturer: Maruti
Seat Covers: Neat,clean, hygienic seat covers
Doors: 4 Doors
Leg Space: Abundant leg space
Communication: National roaming phone
Stereo systems: Available
First Aid Box: 24*7 First aid box
Luggage Space: Ample space for luggages
Cab in Pathankot,
Taxi in Pathankot.
Pathankot Car Rentals.
Need Dzire Cab in Pathankot Railway Station.
Hire Sedan Cabs for North India Tours from Pathankot.