12 Seater SML Executive Coach
12 Seater SML ISUZU Luxury Mini Bus Hire in Pathankot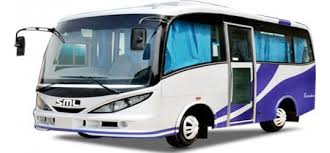 Hire 9/12 Seater Luxury SML ISUZU Mini Buses in Pathankot to enjoy the Himachal, Uttrakhand, Rajisthan & Srinagar Tours.

We have a large range of Luxury Tempo Travellers & 12 seater sml isuzu mini buses for many type of rental plans and packages that the Hirer can choose according to his requirement.

TOURS FROM PATHANKOT:
A Traveller can commence his trip from Pathankot to North India. you cab book 12/14 seats A/c Cabs for hillstations , pilgrimage, business meetings etc. to meet their desired purpose. To make things easy.
12 Seater Cab in Pathankot.

A/c Mini Bus Hire in Pathankot.
Rent A Mini Bus in Pathankot.
Rental Tempo Traveler in Pathankot.
Book 12 Seater Taxi Cab in Pathankot.